Current Members
Arutha * Baker's Man * Bhaltair * BlackHand * Bloodstoner * BooBoo Kitty * ChikunBakeNBrew * DragonHam * DragonHawk * Elumkcap Suni * Fafnir * FireTruck * Frozen Ham * FrozenHawk * Hoover * Hunt * Inu's Packmule * Inu Teisei * Jaryd * Miratisu * MissPotatoHead * Morph * Neon * Other * Prowl * Pun'isher * Ramandu * Ratbane * ShadowD * Shadan * Smeester * Socamoto * Tender Lumpling * Throk * Tongonto * Turlach

Arutha : is an Epic member of Laughing Academy, so Epic! that words escape us! Although I guess we can say he is a snappy dressing fen!
Baker's Man : is LA's uber horus healer who has recently gone on an extended study tour.
Bhaltair : is revamped exile who traded in all fame and possessions in order to serve LA in a manner still to be determined.
BlackHand : is LA's Epic! Fighting Zo. Never one to flinch from battle, he will charge into desparate situations without regard to his own personal safety. BlackHand's journal is here.
Bloodstoner : is FrozenHam's protege. He is training in the classic bloodstone technique developed by his idol, FrozenHam. He likes to brandish a mean pretzel against all who seek to defile bloodstoning. He has a troubled history. He is rarely seen as it is rumoured the Inu keeps him locked up in the library to avoid the troubles he encountered at pre-myst skool.
BooBoo Kitty : is one of LA's mid-level healers who recently obtained fourth circle. She is a cad specialist but still likes to run around. She was formerly married to Largo and the long lost Eildaen. They have two children, Figwit and Wigfit.
ChikunBakeNBrew : is one of LA's newest member. She performs many useful duties for LA including tailoring, brewing, and baking. She has chosen to remain unprofessioned in order to serve the clan.
DragonHam : is the creation of stolen genetic material from DragonHawk and FrozenHam. Both of which disavow any association with this young fighter. He prefers the solitude of the library.
DragonHawk : is an Epic LA fighter, who happens to fall a lot. He is also a spiffy dresser who spares no expense in his wardrobe. He tends to favor crimson accents in his wardrobe. His favorite packmule is Inu. He is also a associate reporter for the LA Inquirer.
Elumkcap Suni : is a new fighter. He is rumoured to be a twin of another member.
Fafnir : is an Uber Fighting Healer. He is fearless and always willing to defend the helpless. In addition to falling in the great tradition of LA, he is known for his sterling LA sense of humour. He is frequently seen around Puddleby, helping new exiles at such places as Lily Pond, Undine, Myrm Hive and other fun places. He keeps his moonstone glowing and his axe sharp.
FireTruck : is a newer healer to LA. He also loves to charge headlong into danger in true LA fashion. Never one to shirk his duties, he faithfully heals his charges. He is also another fighting healer in the style of Fafnir, Inu Teisei and Tongonto
FrozenHam : is a mid-level healer with LA who specializes in punfullicious healing. He is also a mean cadder and will diligently heal injured and fallens at great risk to his personal safety. His specialty is Marker Madness as witnessed in our sketch album, Marker Madness. He is currently training Inu in the art of Grafitti-ing exiles who have gone out of their mind in afk land.
FrozenHawk : is the twin of DragonHam, and is also the engineered offspring from genetic material stolen from DragonHawk (while napping of course) and FrozenHam (while out of his mind). FrozenHawk is a healer and has the distinction of becoming a healer and passing the second circle test on the same day, thanks to a prepatory program from Healers Anonymous, Healers Always.
Hoover : is an long time fighter who is very studious. Try as we might he seldom falls unless we really really really try. He is rumoured to supply FrozenHam & Inu with markers. He also eschews clothing as they are simply to gauche for him. He is also an accomplished punmaster in the same league as Punny & Ramandu. Whenever LA needs a fighter, he is usually to be found.
Hunt : is our cute usually mute fen fighter. His short attention span is really due to a tome from the library calling him.
Inu's Packmule : is Inu Teisei's packmule and a fighter.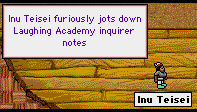 Inu Teisei : is a young healer in LA. She is Pun'isher's half sister and falling pal of DragonHawk. Her additional duties include:
ClanMart Greeter
LA Inquirer Sketch Artist & Reporter
Puddleby Player
Scroll Master
Trainer and Producer of LA ClanLord DeathDefying Visionstones (CDVs).
You can also visit her journal of escapades at this location.
Jaryd : is a newcommer to the clan. He is also another fine example of the LA method of fighting, charge...... FALL!
Miratisu : is LA's newest member for 2008. She is a fourth circle cadding healer. Although she claims to never laugh, she is perfect for LA!
MissPotatoHead : is the official potato holder of Laughing Academy and also a part time fighter. She prefers the study extensively in the library and wait for potatoes to be presented before exiting the library.
Morph : is an oldtimer, fen healer and most likely one of the five original members. He's not quite sure. Apparently he has been too close to Inu and has caught her oldtimer's disease. Nevertheless, he is a delightful member of our clan. We welcome him back to actively hunting and frolicking in the lands.
Neon : is another new LA member. He is a fierce halfling who also fights!
Other : is not just Another new LA member, she is a stylish fighting Fen! Where Other is found, LA is soon to follow!
Prowl : from the moment Prowl came into the lands, LA knew they had to have her in their clan. Never one to flinch from any opportunity, Prowl is a shining example.

Pun'isher : is a Ranger, Fighter and LA's Uber Punmeister. She is also a reporter for the LA Inquirer. She is shown here in one of her many roles that she performs in the Puddleby Players.

Ramandu : is an advanced sylvan fighter. He is a mean punmeister too, and managed to trump Punny in his re-initiation after his return.
Ratbane : is LA's sole mystic. In addition to his remarkable boosting skils, he is also an excellent tour guide, introducing young exiles to the fun that is falling in many new and dangerous locations. Ratbane is also very studious, and those lucky enough to meet him are truly rewarded by his presence!
Shadan : is one of the five Zo in the clan and is a fighter. He is rarely seen, but a potent force nonetheless
ShadowD : is a skilled reserved fourth circle healer. Who is sought after in many hunts outside the clan. In addition to being an excellent cadder, he can also brick many monsters. He is also becoming known for his Epic taste in attire.
Smeester : is LA's original über Zo and Epic Ranger! Respected within the LA clan and by all of Puddleby, he is currently on an extended break. We hope he comes back soon!
Socamoto : another new fighter to the clan thanks to DragonHawk. He is being steadfastly trained by DH and other a Snow Lemming members. He excels at LA's favorite sport (FALLING), for which we are so proud!
Tender Lumpling : is a sylvan healer who has left the lands along with her friends. We hope she returns someday and brings her friends back too. She is sorely missed

Throk : is another of LA's newest members. Daring he is and has no trouble charging into battle. We have a feeling he will go far in the lands
Tongonto : a stylish vision in all white clothing, is another fighting healer in the fine tradition of Fafnir, Firetruck, Inu Teisei and other exiles.
Turlach : is LA's active horus healer. He shuns weapons of any sort instead preferring to beat monsters into submission with his uber personality. When not raising those that Inu can't he can be found somewhere in the stacks of Puddleby's finest library.
Former & Honorary Members
Agoob : Baffina : Batista : Creed : Finegas : Galen : Gremlins : Illora Mone : Lassair : Miug : Nevyn: Niccolo: Ortlinde : Raul : Rhys : Sanca : Super Chicken
Agoob : is a Champion fen who left LA to join The Holy Metallic Wombats Inc. He was a mystery to us all...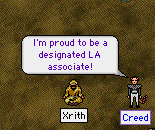 Creed : is an uber healer who has frequently saved LA's bacon. And she is a devilishly stylish fen, with excellent taste. She sells the best zu in the land, and creates potions which are exceptional. All that is in addition to her cadding skills! We are very proud to call her an associate! No fens were harmed in the making of this sketch.

Finegas : is a fighter, and an honorable member of the Laughing Academy. He is Pun'ishers Evil Side-Kick and hair dresser, and is usually found, "Falling At a Snell Near You" with some of his friends from Laughing Academy. He is also number one of the three musketeers (consisting of Inu Teisei #2, and Dragonhawk #3). He is also Dragonhawk's Evil twin brother, wait...Dragonhawk's the evil one....no wait...Finegas is... Well anyways, though Finegas is a dedicated member of the Clan "HUNTER!", we still try and steal him into the clan. He will always be a member in our hearts.

Galen : is a Snow Lemming healer who manages to save LA from itself, usually when the LA healers (e.g. Inu) lack horus! He is a studious fellow.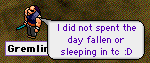 Gremlins : is a zo Fighter who in earlier times spent much coin on repairing his chains from all the rescues of LA. When he didn't have a chain, he would join LA in falling. He was formerly a Lemming, but left to start his own clan, the esteemed Fenix Fire. Always a fun zo to have in a hunt, he is never far from a tap!
Illora Mone : is a member of a Snow Lemming and frequent fallen er guest of LA's many escapades. Although the sketch you see here was not due to LA! Illora avoids Purgatory despite invitations from LA to the contrary to keep her company when she departs there (by departing ourselves!) Nevertheless, she is a sought after healer and a genuinely nice exile!

Ortlinde : A dedicated fighter who seems to fall victim to LA hunts rather frequently. She is also a Snow Lemming member, which is probably why we know her so well! Without Ortlinde, LA members would have many more departs! We are lucky she does not charge us!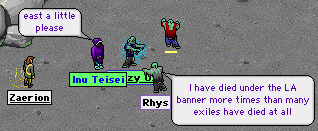 Rhys : a dashing former member of Laughing Academy, now the proud papa of his own (utterly serious) clan. DH is relieved that Rhys did not rejoin LA as that would have put his Alpha Stylishness into question.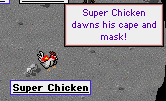 Super Chicken : A founding member who left when the clan died briefly to become a mini! (Another cool fashionable clan). Check out Super Chicken's story and the Chicken Glory area devoted to worshipping him. He truly misses LA!

If you are a current or former member of LA who is not on this list, please send Inu Teisei an enchanted mail at inuteisei on gmail (dot com)
.